My vacation was too short ... but my luggage's was not. Apparently it decided to extend its three hour layover in DC to a full day. Wish it would have told me first. I might have tried to smuggle some liquid on the plane - like the liquid in which my contact lens are (hopefully) swimming; or, the liquid I use to fight my face's desire to have the complexion of a thirteen year old or the liquid I roll on my pits to prevent stink; not to mention, the liquid I use to mask said thirteen year old's complexion or to line my eyes. Yah, my bag, and all of my cosmetics, including my contact lenses, and such never made it back.
**Edited to Add: My luggage arrived later this afternoon. All was well except for my bottle of perfume that cracked and had to be thrown away. Oh, and my first ever home made pom-pom that I tied onto my black suitcase to distinguish it from all of the other black suitcases? Gone.**
The trip itself was a weird combinations of highs and lows. It was really nice to see my uncle. We had several good laughs and I was relieved to see that he seems to be doing okay. The game? Blech. The whole thing made me sick to my stomach. I didn't have high hopes but still. Moving on ... the 4S,
as before
, LOVELY.
I (accidentally) left my favorite tee shirt on the bed and it was scooped up with the linens by the housekeeper. [I know better than this having lost my blankie when I was five years old at a hotel under the EXACT same circumstances and being traumatized so severely that to this day I *almost* always make sure the bed is empty before I leave my room for the day.] Anywho, we stumbled back to the hotel at about 1:00 a.m. after the game, soaked from the constant rain and sad from the loss. I
fell
hopped into the shower, cleaned off, and got ready for bed. When it came to the "putting on the jammies" portion of the evening, my jammies being my favorite tee shirt, I realized it was gone. After a search of the room by me and then by Boo, we realized that the shirt was truly gone. Boo called the front desk and asked for someone to look for it, but I honestly had no hope of it being found. Interestingly the front desk person said he would alert housekeeping and security. Um, security? I'd like to see that report, "Missing: mens XXXL white tee shirt with red and black lettering of the words "powering the future" and names of various corporate sponsors. Has red pizza sauce stain dead center front, brown soda stain on the bottom right front, unknown stain on front left nipple region, and small tear in right arm pit area." The front desk manager called us back about twenty minutes later and asked us to search several places. I told her I had searched the places she suggested, as had my husband, and the woman was a little snotty with me as if I had some nerve accusing them of taking my shirt when it was obvious that this was the 4S and thus, I was the one who had to have misplaced my stain ridden shirt. I could just hear her calling housekeeping, "Yah, some dumb woman in room X is claiming that WE took her large, ugly, old, STAINED tee shirt. We are the 4S, we don't do old or stained. I know the dumb ass lost it but could you check anyway so I can document it in my report."
I was actually teary eyed over the loss of my shirt. [Boo was a little disturbed by my despair, "Babe. It's just a tee shirt." "No it's not! That is the shirt from the off-site meeting in Florida that you missed, for me. Remember? You gave me that shirt when I was in the hospital for my gall bladder surgery. *sniffle* You could have gone to Disney World but instead you stayed with me AND you gave me your free tee shirt. Besides, it is the perfect length and size and I just broke it in and I LOVE THAT SHIRT! *sniffle*" What can I say, I am pathetic.] But guess what? It was found! The snotty woman called back and said it was found with the linens (HA! I TOLD YOU SO!) Because it was with "soiled" linens they needed to launder it and promised to have it waiting for us four hours later when we were checking out. It was waiting for me as promised and it was returned to me laundered and folded and in a hermetically sealed bag when we checked out at the unholy hour of 6:30 a.m.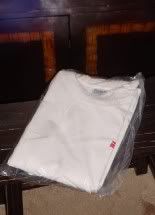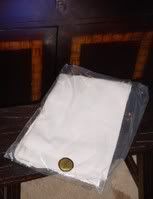 I wanted to smell it and see if the stains had been magically removed by the power of the 4S but thought it would freak out the hotel folk (I got weird looks when I simply clutched it to my chest like a lost child) so I just tucked it into my bag. This may have been a terrible misjudgment on my part because it is in my suitcase and thus now missing (again)!
In happier news, for the first time ever, I knitted on the plane. Screw 'snakes on a plane' we've got "Knits on a plane!" I was concerned that security would stop me and my knitting stuff but it turned out a-ok. I brought my simple knit shawl on its circular bamboo needles and it went through without a hitch. Being the anal-retentive freak that I am, I printed out the
TSA's policy on carry-on knitting needles
as precaution. I never needed it though. I did get a few glances from fellow fliers but only one person commented. This nice man who was seated in my row at the window (I was in the aisle seat) said my shawl was "very pretty" and that he was envious because he couldn't bring his "hobby" on the plane. Turns out he likes to build miniature wooden sailing ships. I am thinking that the TSA's policy concerning carry-on wood working tools is something along the lines of no-fucking-way. That razor sharp blade being problematic and all. I got a lot of my shawl knitting done and have almost finished the first skein. The sample I saw used only one skein but since I am big I want my shawl big so I am thinking I will use at least half of another skein. We'll see.